Truck accidents are often lethal, given the weight of the trucks. You will likely sustain serious injuries if you get into a truck accident. These injuries can result in high medical bills and demand extra attention and care.
Truck accidents are complex and may involve multiple parties, making it hard to determine who to hold accountable. You can only file a claim once you have established the party at fault. Without proper legal representation, pursuing an insurance company can be frustrating.
If you are involved in a truck accident, hiring a reputable Atlanta truck accident lawyer will be best. Our skilled auto accident attorneys at the Law Offices of Gilbert Sperling, III, P.C. can go after insurance companies on your behalf and ensure you get full compensation. Call us at 404-418-7816 today.
Truck Accident Statistics Georgia
Truck accidents are not uncommon. While Georgia truck accidents happen less frequently than other vehicles, they often involve more fatalities. Below are statistics on truck accidents in Georgia:
According to the NHTSA, in 2014, the total number of fatalities caused by truck accidents was 155, and 182 in 2015.
The NHTSA reports truck accident fatalities to be higher and increased pedestrian deaths caused by trucks.
According to the IIHS, there are 180-230 fatal truck accidents in Georgia, accounting for about 14% of the state's total motor vehicle accidents.
Steps To Take After Your Truck Accident
Truck accidents are often severe and will significantly impact your life. The course of action you take after getting into an accident can significantly affect the damages you receive. Truck accidents are complicated as they may involve multiple parties, so it will be best to call 404-418-7816 and consult attorney Gil. Here is what to do after a truck accident:
Call 911
Truck accidents tend to be severe, so ensure you call 911 if you get into one. It is vital to call 911, especially if anyone involved in the crash has sustained injuries. It would also help if you called the police to assess the accident's severity at the crime scene. After assessing the accident, they will write a report and direct you on what next.
Help others
If you have not sustained any severe physical injuries and have full-body mobility, try and help the other individuals involved in the accident while you await medical backup.
Exchange info
Remember to exchange information with the other involved party after being in a truck accident. You must get their information to ensure you have an easy time tracking them down or get in touch when deciding to seek compensation. Some vital information to collect includes their license number, name, phone number, email, address, employer's contact information, policy information, and the insurance company.
Speak with witnesses/document the scene
It is vital to speak to any witnesses at the scene of the accident and to document the scene. You can document the scene by taking videos and photos that prove the accident's severity. Besides taking pictures of the accident, remember to take pictures of any injuries you may have suffered. If your injuries are severe, it will help to document your recovery process by taking pictures and videos and keeping medical records.
Seek medical attention
After being in a truck accident, you must seek immediate medical attention. Even if you feel fine and have no physical injuries, ensure you go to the hospital for a full body check-up as you may have sustained internal injuries. Failure to seek medical attention may get in the way of your claim to seek compensation later, as there will be no way to prove your injuries resulted from the accident.
Contact an attorney
It is vital to consult an attorney after being in a truck accident. Ensure you contact our truck accident lawyers at the Law Offices of Gilbert Sperling, III, P.C. We will handle your case while you take time to recuperate and ensure that the insurance company pays what they owe you.
Laws Regarding Truck Accident Liability In Georgia
While it can be difficult to establish the party at fault in a truck accident, the law dictates that the liable party is negligent. Truck companies and drivers ought to adhere to all the state and federal laws and act as any reasonable person would in a similar circumstance. They are negligent if they cause a crash due to failure to obey the law.
Truck accidents often cause significant damage and can be fatal, making it scary to share the road with trucks. Besides regular motorcycle laws, truck drivers are liable for different laws. These include:
The permitted maximum weight
Sufficient rest for the driver
The truck's quality control
How Can An Atlanta Truck Accident Lawyer Help?
Pursuing a truck accident case is not always straightforward as it involves multiple parties. They are even more complex when you do not have the necessary legal help. Therefore, you must work with our skilled truck accident attorneys. We have extensive experience working on similar cases and will make navigating your case easier.
Below is an overview of the different ways our truck accident lawyers can help with your case:
Investigating your case
Truck accidents involve several parties, so it can be difficult to establish the at-fault party. Attorney Gil works with other professionals to determine who is responsible for the truck accident and will ensure they are held accountable.
Helping you file a claim
Our skilled truck accident lawyer will help you file your claim. We will ensure that every loss and injury you sustained from the accident is accounted for in the claim. Additionally, we will prepare and put together the information necessary to help build a strong case.
Conducting negotiations on your behalf
Attorney Gil has extensive experience working on different truck accident cases and negotiating with insurance companies. He will perform the negotiations on your behalf to ensure you receive your rightful compensation.
Litigation
Hiring a lawyer is crucial as they will help you build a strong case and guide you in navigating the legal process. Our truck accident attorneys are proficient with the law and will ensure you follow the proper legal process and submit your claim on time.
Representing you in court
If we cannot reach a fair settlement during negotiations, we will represent you in court. We know the law and are familiar with the court rules.
What Types Of Compensation Can I Receive?
The compensation you receive relatively depends on the severity of your truck accident. The type of compensation you can receive include:
Economic Damages
Per the Georgia code, § 51-12-2, economic damages in a truck accident are claims that "must be proved to be recovered." They are typically easy to calculate in an insurance claim as they are demonstrated in actual monetary value. Economic damages include medical expenses, property damage, and lost wages.
Non-Economic Damages
Non-economical damages are intended to compensate you for the emotional and physical suffering you experience from the accident. They are more difficult to quantify financially and may include disfigurement, mental anguish, loss of enjoyment of life, and pain and suffering.
Punitive/Exemplary Damages
Punitive damages are awarded rarely but may be awarded in specific truck accident cases. They are not awarded as a form of compensation. Still, they are (per the Georgia code § 51-12-1) intended to punish the at-fault party and discourage them and the public from practicing a similar wrong in the future.
What Are Truck Accident Claims Worth?
Each truck accident is different, so there is no fixed amount of compensation that truck accident victims get. The precise facts surrounding your truck accident case will determine how much your claim is worth. Here are factors that may affect how much your truck accident claim is worth:
Medical expenses: Your medical expenses resulting from the accident will influence how much your claim is worth.
Injuries: Your claim's worth will be determined by the extent of your injuries and how they have impacted your life.
The extent of the damage: The extent of damage caused to your personal property in the accident will affect how much your claim is worth.
Pain and suffering: Your claim's worth will significantly be impacted by the pain and suffering you have dealt with from the accident.
Loss of income: If your injuries from the accident make you miss work or make you lose your job, it can affect how much your claim is worth.
It is impossible to calculate the exact amount that you can recover through your truck accident claim since each case differs. However, an experienced truck accident lawyer can evaluate your case and help you come up with an accurate estimate of how much your claim may be worth. Please get in touch with the Law Offices of Gilbert Sperling, III, P.C., and let us help you determine how much your claim may be worth and ensure you are fully compensated.
Is There A Deadline For Filling A Atlanta Truck Accident Claim?
Filing your Atlanta truck accident claim as soon as possible is essential. You have two years to file your personal injury claim after being in a truck accident. If you fail to file your claim within the statute of limitations, you risk losing the right to take your case to court.
If you have been hurt in an Atlanta truck accident, contact the Law Offices of Gilbert Sperling, III, P.C. immediately. We will help you file your claim within the set time limits to ensure your case is heard and you are rightfully compensated.
How Is Fault In A Truck Accident Determined?
Georgia employs a modified comparative fault system to establish the party responsible for damages in a truck accident case. According to this law, you can receive financial compensation only if you are 50% less responsible for the accident. Therefore, it is vital to determine negligence in a truck accident.
Negligence is broken into four elements, including:
 Duty of care: Duty of care demands that a driver protects other people on the road from harm. For one to be held negligent, you must prove that they owed you the duty of care.
 Breach of duty: To determine negligence, you must prove that the liable party breached their duty of care. This can include drunk driving, speeding, or distracted driving. You have to provide evidence that shows the liable party breached their duty.
Causation of damages: Besides proving the liable party did not uphold their duty of care, there must be a clear link between their actions and the accident.
 Damages: Once your attorney proves the liable party acted negligently and caused the accident, they have to show how it caused you harm.
While proving negligence may seem straightforward, you'll need to prove all four elements to lay the ground for your negligence claim. Establishing fault in a truck accident can be challenging without the right legal help. Talk to our skilled truck accident attorneys, and let us help you establish the at-fault party. We are committed to fighting for our clients and ensuring they receive their rightful compensation.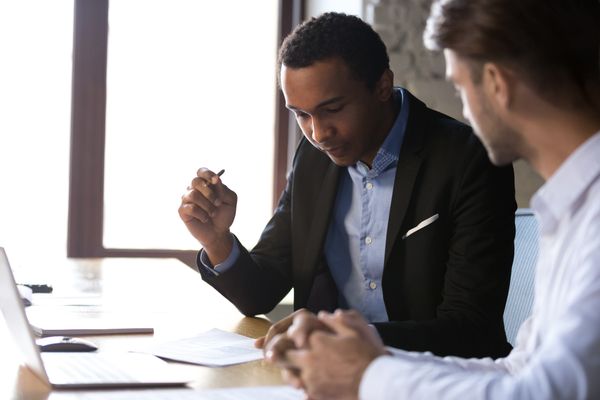 Can An Attorney Prove The Truck Driver Was Negligent?
Yes! Your truck accident attorney has the resources, and experience needed to prove the truck driver's negligence. There are different ways for lawyers to prove a truck driver was negligent. In addition to conducting thorough on-scene investigations, they can also seek to obtain and preserve the following evidence:
 Police report
The truck driver's logs
Traffic camera footage
Witness statements
All of this evidence serves to prove that the trucker's negligence caused the trucking accident and establish your right to financial compensation.
Who Can Be Held Liable?
Truck accidents are complex, and multiple parties can be at fault. Here is who can be held liable in a truck accident:
Truck driver: If a truck driver's actions contributed to or caused your injuries, they can be held liable. Instances where a truck driver may be held liable, include driving under the influence, distracted driving, speeding, or violating federal driving regulations.
Trucking company: If a trucking company's actions contributed to the accident, they could be held accountable. They may be liable if they pose unsafe driver demands, improper safety procedures, and incomplete equipment inspections.
The company who loaded the truck: There is a specific way that trucks must be loaded to ensure safety during travel. The holding company will be held responsible if a truck accident results from improper loading or overloading.
Vehicle or parts manufacturer: A parts or vehicle manufacturer can be held accountable if a truck accident happens due to a defective vehicle part.
Common Causes Of Truck Accidents
Multiple factors contribute to truck accidents in Atlanta, Georgia. These include:
Equipment malfunction
Drug use
Poor road conditions
Lack of truck maintenance
Driver fatigue
Improperly secured cargo
Inexperienced or poorly trained drivers
Schedule A Consultation With Attorney Gil Today!
Getting in a truck accident can significantly affect your life as the injuries are often severe. At the Law Offices of Gilbert Sperling, III, P.C., we understand how complicated determining fault in a truck accident can be and the hassle of going against insurance companies.
When you work with Attorney Gil and his legal team, you can count on us to thoroughly evaluate your case and start taking steps right away to preserve evidence, identify potentially liable parties, calculate the damages you are due, and rigorously fight insurance companies for a favorable outcome. Call us at 404-418-7816 for a free case review.