Drunk driving is one of the most serious dangers on the road today. Despite public education campaigns and stiffer penalties, drunk driving accidents are still all too common.
If you or someone you love has been involved in such an accident, it is important to know that you have legal options. An experienced Union City drunk driving accident lawyer can help you understand your rights and fight for the compensation you deserve.
Don't let a drunk driver get away with ruining your life—reach out to the Law Office of Gilbert Sperling, III today.
Our experience allows us to effectively fight for the maximum compensation possible. We understand how to build a strong case and negotiate with insurance companies. Our goal is to get you the compensation you need and deserve so that you can move on with your life.
If you have been injured in a drunk driving accident, call us at 404-418-7816 to speak to one of our Union City car accident lawyers. We will evaluate your case and help you understand your legal options.
Drunk Driving Statistics in Georgia
Drunk driving is a serious problem in the state of Georgia. According to the most recent data from the National Drunk Driving Statistics Map, there were 353 drunk driving fatalities in Georgia in 2019. What's more, nearly 25% of all car accident deaths were due to drunk driving collisions.
These numbers are alarming, and they underscore the need for everyone to be more vigilant about drunk driving. If you're going to be drinking, make sure you have a designated driver.
If you see someone who appears to be driving drunk, don't hesitate to call the police. We all need to do our part to keep our roads safe.
What Are The BAC Limits In Georgia?
The legal Blood Alcohol Concentration (BAC) limit in the state of Georgia is 0.08. This means that a driver's blood must have an alcohol concentration of less than 0.08 in order to operate a vehicle legally.
Drivers with a BAC at or above the legal limit are considered to be impaired and are subject to arrest. In addition, Georgia has a "zero tolerance" law for drivers under the age of 21.
This means that any driver under the age of 21 who is found to have a BAC of 0.02 or higher will be automatically arrested for DUI.
The penalties for driving under the influence in Georgia are severe and can include jail time, fines, and the suspension of your driver's license. If you are facing DUI charges, it is important to contact an experienced attorney who can help you navigate the legal system and protect your rights.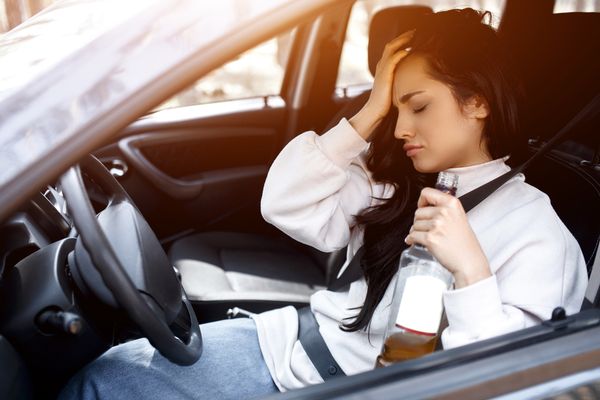 What To Do After An Accident With A Drunk Driver?
After an accident, it is important to stay calm and follow the proper procedures. If the other driver is intoxicated, it is important to contact the police and let them handle the situation.
It is also important to get the contact information of any witnesses and take pictures of the damage to both vehicles. In addition, it is wise to consult with a Union City drunk driving accident lawyer before giving a statement to either the police or the insurance company.
If you have been injured in an accident with a drunk driver, it is important to seek medical attention as soon as possible. In some cases, injuries may not be immediately apparent, so it is important to get checked out by a doctor even if you feel fine.
By following these steps, you can help ensure that you receive the compensation you deserve and protect yourself from further harm.
What Damages Can You Recover After a Drunk Driving Accident in Georgia?
If you have been injured in a drunk driving accident in Georgia, you may be wondering what damages you can recover. The answer depends on the specific facts of your case, but in general, you may be able to recover economic and non-economic damages.
Medical bills, property damage, and lost wages all fall under economic damages. Non-economic damages are more subjective and can include things like pain and suffering, emotional distress, and loss of enjoyment of life.
In some cases, punitive damages may also be available. Punitive damages are designed to punish the drunk driver for their actions and deter others from driving under the influence.
Common Car Accident Injuries
Here are the common injuries we see from our clients:
Back Injuries
Neck Injuries
Head Injuries
Internal Injuries
Facial Disfigurement
Leg & Knee Injuries
Types of Car Accidents We Handle
Our lawyers are more than familiar with car accidents, and here are just a few main types we have dealt with in the past.
Hit & Run Accidents
Rear-End Accidents
Rollover Accidents
Uninsured Motorist
How Long Do I Have To File A Claim in Georgia?
In the state of Georgia, you have two years from the date of the accident to file a personal injury claim. This is known as the statute of limitations. If you do not file your claim within this time frame, you will be barred from recovering any compensation for your injuries.
There are some exceptions to this rule, however, so it is important to speak with an experienced attorney as soon as possible after an accident. The sooner you get started on your claim, the better your chances of recovering the full value of your damages.
How Much Will an Attorney Cost?
Some people hesitate to hire an attorney because they are concerned about the cost. Many personal injury attorneys, however, work on a contingency basis. The Law Offices of Gilbert Sperling, III is no exception.
This means that you will not be required to pay any upfront fees. We only get paid if we are able to recover compensation for your injuries.
Call the Most Trusted Union City Drunk Driving Accident Lawyer Today
If you or someone you know has been injured in a drunk driving accident, contact the Law Offices of Gilbert Sperling, III today to schedule a free consultation. Our experienced personal injury attorneys in Union City will fight to get you the compensation you deserve.
Over the years, Attorney Gil has represented many clients who have been injured by drunk drivers. He knows the ins and outs of Georgia law and will work tirelessly to get you the best possible outcome in your case.
You don't have to go through this challenging time alone. Call us today at (404) 383-6975 to learn more about how we can help you.