Car accidents can leave you with serious injuries and a heap of medical bills. If someone else was responsible for the accident, you have the right to seek compensation for your injuries and damages. Unfortunately, insurance companies are difficult to deal with, and the claims process may be very frustrating.
If you or a loved one has been in a car accident, you should contact a Fairburn car accident lawyer right away. Working with an attorney will make the claim process easier, and they will deal with the insurance company, allowing you time to recuperate. Allow the Law Offices of Gilbert Sperling, III, P.C. to help you. We will do everything possible to ensure you receive your rightful compensation.
Our skilled personal injury lawyer in Fairburn has worked on similar cases and understands car accident laws in Georgia. Contact us today at 404-418-7816 and let us help you receive the settlement you deserve. We offer free and confidential initial consultations.
Georgia Car Accident Statistics
Car accidents are not uncommon in Georgia. According to the NHTSA, Georgia has some of the most dangerous roads in the United States.
According to the Georgia Department of Transportation report, 331,796 crashes were reported in 2020. At least 125,000 crashes resulted in injured victims, and 1,588 were fatal.
What Does a Car Accident Lawyer in Fairburn Cost?
At the Law Offices of Gilbert Sperling, III, P.C, we represent car accident victims on a plan, meaning we do not charge you an upfront fee. Instead, we will represent you and will only charge you after we win your car accident case. We don't get paid if we don't win compensation for you.
What Should You Do After a Car Accident?
Car accidents are a scary ordeal that might leave you confused and traumatized. Here is what you should do after getting into a car accident.
Contact Police
Call the police right away. Typically, police will assess the damage and note important details in their accident report. The information in the police report is crucial when you file a claim.
Check on Others and Do Not Leave
Check on the other involved parties to confirm they are okay. Call for medical assistance if anyone is severely hurt. Do not leave the accident scene before the police arrive.
Exchange Info
You must exchange information with the other parties involved, as it makes contacting them when you seek compensation easier. The information you need to exchange includes license number, address, name, phone number, email, insurance company, and insurance policy information.
Record the Scene
Always take pictures and videos documenting the accident scene, as these can be helpful evidence later. Make to capture damage to the vehicles, any visible injuries, and any details like skid marks.
Never Admit Fault
Do not ever admit fault at the scene or when talking to insurance companies. Even a simple apology can hurt your chances of recovering compensation.
Seek Medical Attention
You must seek immediate medical attention after a car accident, even if you have no visible physical injuries. You may have suffered internal injuries, so ensure you visit the nearest hospital and get a comprehensive checkup.
Call a Car Accident Lawyer
After being involved in a car accident, you should call a lawyer as soon as possible. Our Fairburn car accident attorney will review your case and determine your options.
When Should I Get a Lawyer for My Auto Accident?
Car accidents are often severe and can significantly impact your life. You should hire a personal injury attorney as soon as possible if you have been in a car accident. As time passes, witnesses' memories fade and crucial evidence can degrade.
Having a car accident attorney on your side ensures you do not have to go through the aftermath alone. The Law Offices of Gilbert Sperling, III, P.C. is dedicated to ensuring the insurance company compensates you.
Why Do I Need a Fairburn Car Accident Lawyer?
There are multiple benefits of working with a car accident lawyer in Fairburn. Here is how Attorney Gilbert Sperling and our team at the Law Offices of Gilbert Sperling, III, P.C. can help you.
Case Preparation / Filing a Lawsuit
Preparing and filing a compensation claim can be complicated. It is even more challenging to file a claim if you are still recovering. Our auto accident attorney will gather all the facts and evidence relating to your case and file the claim on your behalf.
Settlement Negotiation
Insurance companies are profit-driven enterprises that make money by settling fewer claims. You can expect insurance adjusters to try to find avenues to reject your claim or lowball you into taking an unfair settlement.
Attorney Gil has been dealing with insurance adjusters for years and is prepared to aggressively negotiate a fair settlement on your behalf.
Trial Preparation & Representation
If the insurance company denies your claim or refuses to agree to a fair settlement amount, Attorney Gil has the trial experience to take your case to court. He is well acquainted with the law and will fight for your best interests.
How Much Can I Expect to Receive for My Damages?
Each car accident case is different. Factors that may affect how much compensation you receive include:
If you share fault for the accident or not
The extent of your injuries
 The medical bills and expenses you incurred
Attorney Gil has worked on different car accident cases and has extensive experience negotiating with insurance companies. He is dedicated to ensuring clients recover maximum compensation. Allow us to review your car accident case and establish an estimate of how much you can receive for your damages.
What Types of Damages Can I Recover?
The amount of compensation you can claim depends on the injuries you sustained in the car accident. There are three types of damages that courts may award.
Economic Damages
These damages are easy to calculate. They are compensation for financial expenses and losses due to the accident, including medical fees, property damage, and loss of wages.
Non-Economic Damages
These damages can't be calculated financially, so the courts often consider expert testimony when deciding on the amount of compensation. Non-economic damages can include pain and suffering, and disfigurement.
Punitive Damages
Punitive damages are rarely awarded. They may be awarded in cases where the defendant's conduct was especially reckless. These damages are meant to punish the defendant and discourage others from similar behavior.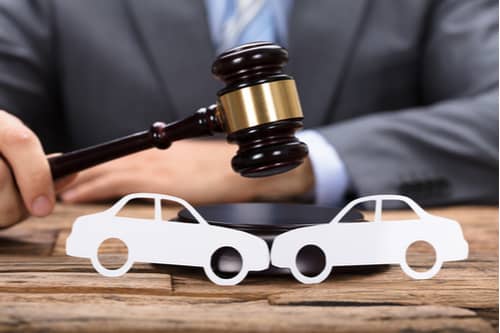 How Is Fault Determined in a Georgia Car Accident?
If you are in a car accident in Georgia, working with a skilled attorney is in your best interest. A skilled Fairburn car accident lawyer can help prove the other driver was at fault.
Below are the four elements needed to prove liability.
Duty of care: Every driver has a duty of care to follow traffic laws and exercise reasonable caution.
Breach of duty: Your attorney must show how the defendant breached the duty of care through carelessness or recklessness.
Causation: The breach of duty of care must be the cause of the accident.
Damages: Your attorney must prove that you suffered injuries and losses because of the accident.
Georgia follows the modified comparative negligence rule. This means that you can still recover damages if you are partially to blame for the accident, but only if you are less than 50% responsible for the accident.
What Is the Time Limit to File a Claim in Georgia?
In Georgia, the statute of limitations for a car accident is two years from the time of your accident. Failure to file your claim within this time frame disqualifies you from receiving compensation for any injuries or damages you may have suffered.
It's best to contact a Fairburn car accident lawyer as soon as possible to ensure your case is filed before the deadline.
How Can a Lawyer Help Me File My Insurance Claim?
Working with a car accident attorney when filing your claim makes the process more straightforward. Here is how our car accident lawyers can help you file your insurance claim:
Send reports: Our skilled lawyer will send your insurer every report, from what was damaged in the accident to your medical reports.
Talk to the adjuster: If the insurance adjusters reach out, our lawyer will communicate with them on your behalf.
Car assessment: Our legal team can direct you to a mechanic who will inspect the extent of damage your car sustained in the accident.
Collect evidence: Our lawyer will collect and compile evidence related to the crash and send it to your insurer.
Send a demand letter: Our attorney will help you evaluate and determine the value of the damages incurred, then send the at-fault party a demand letter.
File a claim: We will help you file your claim on time and ensure you follow the proper legal process.
What Can I Do If Insurance Denied My Claim?
Insurance companies can deny your claim for various reasons, including:
You did not file your claim on time.
The insurance company believes you were at fault.
The insurance company claims that you were not hurt.
The insurance company is arguing that your injuries were not caused by the accident.
Consider talking to an auto accident attorney if insurance has denied your claim. Our team at the Law Offices of Gilbert Sperling, III, P.C. will help you. We understand how frustrating dealing with insurers is.
If the insurance provider rejects your vehicle crash compensation claim in bad faith, we will appeal the decision and push for mediation. If your claim is still declined, our team is prepared to submit a lawsuit.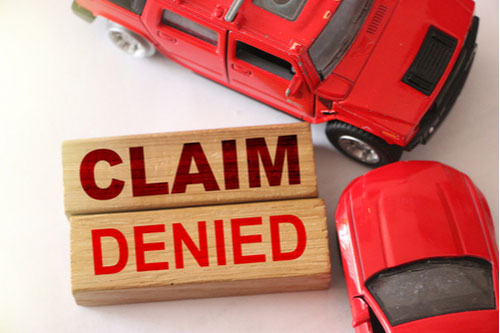 Do I Have a Case?
The facts surrounding your car accident will determine whether or not you have a case. You may have a case if the other driver was negligent and you suffered injuries and damages as a result.
It would help if you talked to our skilled car accident attorney to establish whether or not you have a case. We will evaluate your case and help you understand your legal options.
What If the Other Driver Doesn't Have Insurance?
Being in a car accident is stressful, especially when the crash involves an uninsured driver.
If you carry uninsured motorist coverage, you can file the claim with your insurance company. They will pay your medical costs and property damage up to your uninsured motorist coverage limit.
You can also file a car accident lawsuit against the uninsured driver. But filing an uninsured motorist claim with your insurance is typically a better option. Uninsured drivers don't usually have the funds and assets to cover the cost of an accident.
How Can I Obtain an Accident Report in Fairburn, Georgia?
If you wish to get your car accident report from the police in Fairburn, GA, you should reach out to your local police department. You may also obtain an accident report online at Buycrash.com.
Common Car Accident Injuries
Most individuals who get into car accidents will suffer minor or severe injuries. Some common car accident injuries include:
Head and brain injuries
Back injuries
Neck injuries
Internal injuries
Knee and leg injuries
Facial disfigurement
Types of Car Accidents We Handle
Some of the car accidents that we handle at Law Offices of Gilbert Sperling, III, P.C. include (but are not limited to):
Rear-end accidents
Hit-and-run accidents
Rollover accidents
Uninsured accidents
Contact a Fairburn Car Accident Lawyer Today!
Auto accidents can be scary. You do not have to deal with the aftermath of a car accident alone. The team at the Law Offices of Gilbert Sperling, III, P.C. are prepared to fight for your rightful compensation. We have extensive trial and negotiation skills to help you pursue the best outcome for your case.
You deserve to have a skilled attorney in your corner. Attorney Gil is a reputable car accident lawyer with years of experience working on different auto accident cases. Call us at 404-418-7816 today to schedule your free consultation with an attorney in Fairburn, Georgia.