Getting into a car accident can permanently change your life in seconds. Even if you're careful and obey the traffic rules, there's little you can do about other Peachtree City motorists. A speeding, drunk, raging or distracted driver can hit your vehicle on the road, leaving you in a dire situation, especially financially.
You may have to get treatment, surgery, therapy, rehabilitation, etc. following a severe accident. In addition, you may have to miss your job or lose business money due to the time it takes to undergo treatment and recover. In Georgia, however, you do not have to bear such costs due to the negligence or recklessness of another driver.
If you or a loved one isn't responsible for the accident, you may be eligible for compensation. Proving liability, however, is not always easy and you may need the help of a Peachtree City car accident lawyer to seek compensation. Not to worry because if you reside in Peachtree City or surrounding areas, Attorney Gil is here to help. Our firm has helped numerous victims protect their rights and we will do the same for you. We offer a free, no-obligation consultation so do not hesitate to call us today at 404-418-7816 to get started.
Car Accident Stats in Georgia
According to a report by the Department of Public Health in GA, vehicle crashes are still the leading cause of injury deaths and the second cause of ER visits in the state.
In 2020 alone, there were over 331,000 car crashes, 1,588 of which were fatal, leading to 1,730 deaths. Around 125,000 individuals were injured and the trend continued in 2021 with a total of 1,776 fatalities. With no lockdowns due to the pandemic, 2022 seems like it will have an uptick in auto accidents.
How Much Does a Car Accident in Peachtree City Cost?
Most personal injury lawyers, including Attorney Gil, operate on what is known as a contingency fee basis. This is an agreement whereby the client does not pay legal fees upfront, but only when the attorney helps them secure compensation. The agreement is usually a percentage of the amount that they are able to receive from the liable party.
This is a convenient way for victims who were hurt or incurred losses in a car accident that wasn't their fault as they do not have to pay anything out of pocket. If they lose the case, they don't have to pay the lawyer.
What Should You Do Following an Auto Accident?
After a car accident, Attorney Gil recommends doing the following immediately:
Contact the Police
First and foremost, you should call the relevant authorities. That's because they play a crucial role in determining the liable party. They also make sure order is maintained and that those injured are rushed to the hospital. Keep in mind that you will also require a police report when making a car accident claim.
Check on the Others
Do not leave the scene. If possible, go and check on other parties involved in the incident. Some may have sustained severe injuries making it hard to move, while others might be stuck. If first aid is necessary help them.
Take Videos and Photos of the Scene
For the sake of remembering the outcome of the accident, Attorney Gil recommends recording the scene by taking photos and videos. This is the most concrete evidence when it comes to seeking compensation. It will also help your lawyer create a more robust case on your behalf. Recording all the important things such as damage to vehicles, injuries, skid marks, road conditions, weather conditions, etc.
Exchange Relevant Information
In the state of Georgia, all parties involved in an accident are required to exchange relevant information such as names, phone numbers, license numbers, vehicle registration numbers, insurance information, etc. Remember that this should be done in a peaceful and respectful way. If the other party is not willing to do so, wait for the police and they will do so on your behalf.
Don't Admit Fault
Whether you think you are partially liable for the accident or not, don't admit fault. Doing so means you will be held responsible for damages and injuries sustained by victims of the accident. So, remember to compose yourself and wait for the police to handle the situation.
Get Medical Attention
After a car accident, you may experience minor or severe injuries. Attorney Gil advises that you visit the hospital as soon as possible. Note that some injuries are not immediately apparent due to the adrenaline rush and others may be internal, which take days or weeks to manifest themselves. The doctor will diagnose you, treat the injuries and make a record that will help you when making a claim.
Contact a Peachtree City Car Accident Lawyer
As mentioned earlier, car accident cases to be tricky and when you are in pain it can be hard to handle everything on your own. With a lawyer by your side, you will be able to know if you have a solid claim, figure out how much you deserve as compensation, and make the necessary steps to file a lawsuit. Attorney Gil is experienced enough to handle auto accidents so do not hesitate to reach out!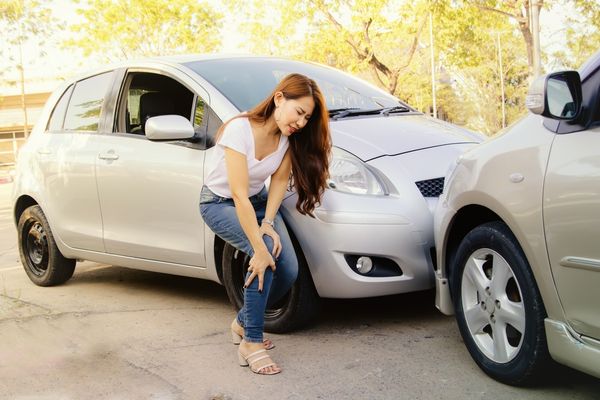 What's the Average Compensation for Auto Accident Claims in GA?
Car accident cases are complex due to the number of factors involved. You have to account for medical bills, lost wages, damaged property, injuries sustained, etc. Your case is unique and so, you should consult a lawyer to figure out how much you should seek.
Why Do You Need an Auto Accident Attorney?
Filing a car accident claim on your own is never recommended, especially if you do not have legal experience. A seasoned auto accident attorney will tell you about your legal options, how to go about the case, and handle the complex paperwork among other things. Here's why you should consider working with Attorney Gil:
Case Preparation and Filing a Claim
In regards to filing a claim, it is necessary that you comply with specific requirements for your case to be considered valid. While some requirements are simple and straightforward, others are not for the average victim. That's why it is wise to consult and seek legal representation from an experienced personal injury lawyer.
Settlement Negotiation
Car accidents do not necessarily have to be dealt with in court. In fact, most of these claims are handled out of court. If the party responsible for your losses is willing to pay a fair amount, then your lawyer and theirs will handle the case and end the claim. It is advisable to have a lawyer at this stage because insurance companies have a reputation for manipulation and lowballing offers. Never settle for what you don't deserve due to your financial future.
Trial Preparation & Representation
If you cannot come up with an agreement in the settlement negotiation stage, your attorney will go ahead to prepare a solid case and represent you accordingly in court. This involves collecting evidence and preparing expert witnesses. Representing yourself is never a good idea as the other party will most likely have a lawyer.
What Types of Damages Can You Recover in GA?
In Peachtree City, GA, car accident victims are eligible for the following types of damages:
Economic Damages
Economic damages are designed to compensate personal injury victims for the money they have lost. If you were injured in the accident and had to seek treatment, the liable party is supposed to cover the expenses. In addition to these, you are compensated for other financial losses such as property damage, rehabilitative expenses, lost wages, etc.
Non-Economic Damages
Non-economic damages are designed to help victims recover from subjective damages. Examples include loss of enjoyment in life, psychological distress, disfigurement, loss of compassion, pain and suffering, loss of support, etc. These types of damages sometimes require continuous treatment, resulting in a spike in the cost of treatment.
Punitive Damages
Some motorists sometimes cause accidents with malicious intent and gross negligence. In such cases, the judge or jury has permission to award punitive damages. However, they are not designed to compensate the victim, but to punish the party at fault and discourage such actions in the state.
What is the Deadline for Making a Car Accident Claim in Georgia?
When involved in a car accident, you may be sustained severe injuries that take longer to treat and recover. This is why in the state of Georgia, people have 2 years to make a car accident claim. This is known as the statute of limitations. While this might seem like a long time, you might not be in a position to meet all legal requirements. There are usually several hurdles and having a lawyer from the onset helps prevent this.
How is Fault Determined in an Auto Accident in GA?
In order to establish liability in an auto accident in GA, proving negligence is required. There are 4 elements of demonstrating this:
Duty of Care
In this first aspect, you need to show that the defendant had a duty of care toward you. In regard to car accidents, everyone on the road has the responsibility to operate their cars safely and obey all the rules.
Breach of Duty of Care
Second, you are required to show that the other party violated their duty of care towards you, thus proving negligence. Examples in this regard include speeding, running a red light, driving under the influence, distracted driving, and reckless driving.
Causation
Thirdly, you are required to prove that your sustained injuries were the result of the incident, and due to the negligent or reckless actions of the defendant. This is often the trickiest part of showing negligence. This is one of the reasons it is best to have the right legal representation.
Damages
Finally, you are expected to show that you suffered damages or sustained injuries as a direct result of the car accident. As mentioned earlier, these include economic and non-economic damages.
Bear in mind that Georgia operates on a modified comparative negligence principle. This means you can still seek compensation even if you are partly liable for the accident. This is awarded based on the degree of your fault and has to be below 50%.
How Can a Peachtree City Car Accident Lawyer Help File Your Insurance Claim?
In order to file a successful claim, you need to understand the requirements and procedure. The claims process usually entails the following:
Filing a claim
Confirmation by the liable party about your claim
Insurance company adjusters investigate your claim
Claim approval or denial
Handling settlement negotiations
Failing a lawsuit if negotiations don't yield positive results
What Should You Do If the Insurance Company Denies Your Claim?
Regardless of the validity of your claim, insurance firms will always try tactics to deny your claim. Luckily, you have the ability to fight back. Your attorney will make a demand letter, and appeal the decision in a court of law against the insurance company.
Do You Have a Case?
It is normal for first-time auto accident victims to wonder if they have a valid claim. These cases, however, tend to be complex and your best bet is to seek the advice of an experienced lawyer like Attorney Gil. He will assess your case on a free, non-obligation basis and give advice about your legal options.
Types of Auto Accidents Attorney Gil Handles
With vast experience in the personal injury law field, you can expect Attorney Gil to help you with a wide array of car accident-related cases such as:
Hit and Run
Rear-End collisions
Uber/Lyft accidents
Uninsured motorist
Hire the Best Auto Accident Lawyer in Peachtree City!
Auto accidents happen on a daily basis, but many people don't seek compensation because they don't know how to go about the process. With the help of Attorney Gill, however, you do not have to fret. Call 404-418-7816 to get started! Contact the Law Offices of Gilbert Sperling III today!