When dealing with the rigors of the day, chances are that you don't think you'll get into an accident. But did you know there's a high chance your daily routines can be disrupted as a result of somebody else's negligence? Some of the things we take as given – like income, health, and quality of life – can turn into uncertainties as your entire life is upended in a matter of seconds. If you get hurt whether because of a work injury, traffic accident, or other accidental or intentional injuries, you may be entitled to pursue compensation.
Our Peachtree City personal injury lawyer will give you personalized advice and go toe-to-toe with insurance companies to ensure that you receive the best outcome from your personal injury lawsuit. Even when you don't know whether your claim is valid, we encourage you to reach out to us to discuss your case and learn more about your options. To arrange for a no-cost and no-obligation consultation in Peachtree City with the Law Offices of Gilbert Sperling, III, P.C., please call 404-418-7816.
What Should I Do After an Injury?
It's not easy to think rationally following an accident. One mistake or utterance can see you endanger your chances of getting compensated. For this reason, it's essential to know what steps to take to safeguard your claim.
Get Medical Treatment If Needed and keep records of all treatment
An accident usually follows with injuries in most cases. Even if there are no evident injuries on your body, you should still seek medical aid to ascertain that you're in full fitness. There are some injuries that if not diagnosed early enough may turn out to be fatal. Also, if you don't seek medical treatment, the insurance adjustor will purport you are overexaggerating your injuries and should therefore not receive compensation. When you have medical records, it will be easier to prove that your injuries were a result of the accident.
Take Photos/Video If You Can
Visual evidence is essential in these sorts of cases. So get to a safe position and take a lot of videos and photos of the accident scene. Make sure to capture your injuries, property damage, skid marks, hazardous working environment, road conditions, weather, lack of warning signs, and any other relevant visual evidence.
Get the Names and Numbers of Any Witnesses
Chances are that at the time of the accident, there were witnesses around the scene. Make sure to get their contact info as they may be integral to the outcome of the case. Take their phone numbers, address, and names. Witness statements can really help your claim since they will provide an honest and unbiased account of what transpired in the moments leading to the accident.
Report the Incident
Regardless of the type of personal injury, you should always ensure that you've reported the incident to the relevant parties. Also, having an official report implicates the responsible party and shows that they were informed about the incident and should take appropriate steps to offer redress. In the case of a car accident, contact the police so that they can file an official report. For a work injury, notify the supervisor, manager, or employer.
Never Admit Fault
It's normal to feel remorseful after getting involved in an accident. But that doesn't mean you have to bear the brunt of the fault. Even if you are partially responsible for your injuries and losses, never implicate yourself by being apologetic or admitting to anything. Don't talk more than you need to and never apologize.
Call a Personal Injury Lawyer!
Consult with an Injury Attorney immediately after you get involved in an accident. A lawyer will ensure that your rights are safeguarded and that you get justice. Call Attorney Gil to offer legal counsel and assist you to use the right legal channels to ensure that the responsible party is held accountable and that you recoup maximum compensation.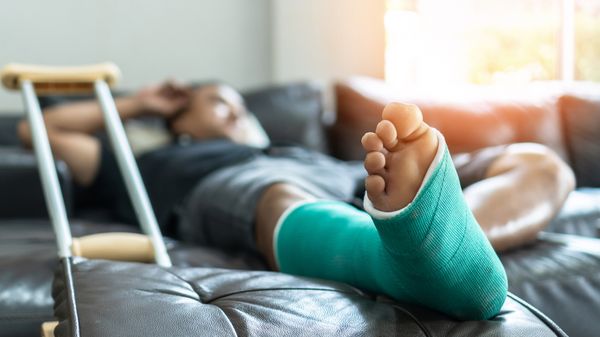 Why do I Need a Lawyer?
Pursuing a personal injury claim can be complicated since it encompasses a range of injury incidents. Also, insurance companies tend to be dodgy about paying compensation and will either deny, delay or devalue your claim. With you left to deal with the repercussions that ensue from a personal injury accident, you need expert help to navigate you through legal proceedings so that you are able to recover damages and finally move on with life. At the Law Offices of Gilbert Sperling, III, P.C. in Peachtree City, GA, we have expansive experience and knowledge when it comes to handling personal injury claims. We always aim to have the case resolved in the shortest time possible, with minimum fuss, distress, and disturbance to you.
Here are a few reasons you should hire a Peachtree City personal injury lawyer after you have been injured.
Case Preparation / Filing a Lawsuit
Having concrete evidence is integral for a personal injury claim to be successful. Attorney Gil has handled numerous cases like these in past and is aware of the requisite documents needed to bolster your case. Our Peachtree City Personal Injury Attorneys will compile key pieces of evidence like hospital bills, medical records, witness accounts, police reports, videos and photos of the scene, and CCTV cameras to ascertain who was at fault. We will also call on the expertise of forensic experts and doctors to help authenticate the credibility of your claim.
Settlement Negotiation
Never enter into negotiations with the insurance carrier without having an attorney present. Insurers are quite cheeky in these scenarios and will work to protect their bottom line. They don't care about your interest and will be looking to trick you in any way possible. Whether it's to deny your claim or give you a lowball offer, insurers will only be serving their interests. We are aggressive negotiators and will make our intentions clear from the get-go. We will compute your damages and spearhead the negotiations to ensure that you receive every cent you are owed.
Trial Preparation & Representation
If negotiations aren't successful, we are more than ready to proceed to court and argue your case there. Our injury attorneys
at the Law Offices of Gilbert Sperling, III will aggressively fight for your rights by preparing compelling arguments, offering effective representation and making sure you receive a favorable case outcome.
What Type of Damages Can I Recover?
There are three main types of damages you can typically recover:
Economic
These damages are meant to restore the plaintiff to their initial financial position before the accident occurred. These damages can be calculated and include property damage, medical expenses, loss of earning capability, lost income, etc.
Non-Economic
These damages are more complex compared to economic damages. They cannot be given a value and usually cover pain and suffering caused by the accident, mental distress, loss of consortium, loss of enjoyment of life, permanent disfigurement or scarring, etc.
Punitive
These damages are rarely awarded and only act to punish the defendant for their gross negligence. For punitive damages to be awarded, the plaintiff must show that the defendant acted in an otherwise egregious manner, and because of this, an accident occurred.
How is Liability Determined
For liability to be determined, you must definitively prove the following elements of negligence.
Duty of Care
You will have to prove that the defendant had a responsibility to offer you reasonable care and prevent the accident from occurring.
Breach of Duty of Care
You will need to show that the defendant didn't act or acted in a manner that an otherwise reasonable individual in position wouldn't and by doing so was in breach of duty.
Causation
From there, you'll have to demonstrate that that breach resulted in your injuries or losses.
Damages
Here you'll show that you incurred damages following the accident, which includes economic and non-economic damages.
Comparative Negligence in Georgia
Georgia follows a strict comparative negligence law, which implies that you can still recoup damages suffered as long as your percentage of blame is below 50%. Under this doctrine, your final compensation will be decreased by your percentage of the blame. For example, if the total damages amounted to $200,000 but you were 10% responsible for the accident, you'll only be able to recoup $180,000.
How Much Time Do I Have to File a Personal Injury Claim in Georgia?
Following Georgia's statute of limitations with regard to personal injury claims, you have two years following the accident date to file a claim or else risk your case being considered void. Although there are some exceptions, you should get in touch with the Law Offices of Gilbert Sperling, III to find out if your case fits certain caveats.
Personal Injury Claims Process
Personal injury claims can be very complicated. Understanding what to expect and what to do is essential if you want to achieve a favorable case outcome. Below we have outlined a typical personal injury claims process.
Consultation
Consult with an injury attorney to tell your account of what transpired and learn what your legal options are. This will give our attorneys the time to review your case and determine whether your case is worth pursuing.
Investigation
The evidence surrounding a case is integral to the outcome of any claim. We will interview and acquire witness statements, hospital bills, and police reports, and obtain any pertinent information that will help determine the best course of action.
Negotiations
Once we've computed your damages, our attorneys will contact the defendant's insurer to provide them with the chance to settle the case out-of-court. Negotiations with insurance companies get a little less complicated when you have an attorney by your side. Also, the chances of receiving a fair settlement offer increase.
Trial
If no agreement is made out of court, the next phase is heading to court. Here, the judge or jury will be the one to establish you were at fault. The facts surrounding the case will be presented with each side arguing their case from where liability is determined. If the case swings in your favor, the defendant and/or their insurer will be obligated to reimburse you for damages and losses suffered.
How Much Will a Peachtree City, GA Personal Injury Lawyer Cost?
Peachtree City, GA Personal injury attorneys including the Law Offices of Gilbert Sperling, III provide their legal expertise on a contingency basis, which means that you won't pay anything unless we successfully recover damages on your behalf. We understand the tremendous pressure you must be going through and don't want to burden you even more with expenses that aren't even your fault. We only win if you win.
Types of Personal Injury Cases We Handle at Law Offices of Gilbert Sperling, III, P.C.
Here are a few of the personal injury cases we specialize in:
Car Accidents: If you or somebody close to you was hurt in an auto accident, you have grounds to seek compensation from the driver's insurer.
Work Injuries: If you suffered an injury during normal working hours, you qualify to get workers' comp regardless of who was at fault. Our attorneys will ensure that your employer is held accountable.
Truck Accidents: Truck injuries are more fatal compared to any kind of traffic accident mainly because they are considerably bigger compared to passenger cars. If you were injured in a trucking accident please call our Injury Lawyers for a consultation.
And more!
Consult With a Personal Injury Attorney in Peachtree City, GA
When it comes to filing a personal injury lawsuit in Georgia, time is of the essence. We are aware that injury accidents can be stressful and painful. Don't get bogged down with the legal aspect of things. Instead, allow The Law Offices of Gilbert Sperling III to take over matters and navigate you through the complex insurance claim process. By doing this, we give you the time and peace of mind to recuperate from your accident.
We strongly believe that you shouldn't suffer due to the negligent actions of someone else, which is why we will work tirelessly to compile a convincing case and ensure you receive maximum compensation for your injuries. We will make use of all legal avenues and measures to seek restitution for your injuries. Contact Attorney Gil today at 404-418-7816 to get clarification about your case and begin legal proceedings. Consultation is FREE!