We live in an era of great mobility. People will leave not only their city but also their state to pursue career opportunities and come back from time to time to visit family. Others travel constantly as part of their job duties. This is why you may find yourself in a difficult situation: you were hit by an out-of-state driver.
Once you realize that the other driver does not have an insurance policy issued in Georgia, you start to panic. How can you file a claim? Will you ever see a dollar in compensation? An experienced Union City car accident lawyer can tell you that you are still protected by the laws of Georgia and you can recover your eligible damages.
However, the process is more complex than filing an insurance claim against a Georgia resident. For this reason, you need to contact a seasoned lawyer as soon as possible after being hit by an out-of-state driver.
Georgia Laws Allow You to Sue Any Out of State Driver for Damages
The first thing you need to know is that our state has specific laws protecting your rights after a car accident with an out-of-state driver. First, the Official Code of Georgia 40-12-2 offers a specific procedure for serving complaint documents to nonresidents.
Secondly, the Official Code of Georgia 9-10-91 sets the grounds for allowing courts in our state to exercise jurisdiction over any nonresident. In other words, even if you are dealing with an out-of-state driver, if the accident happened on the territory of Georgia, then the laws of Georgia are applicable in terms of taking legal action.
Therefore, you must remember that the law is on your side. The other driver may try to persuade you that you cannot sue them and that you should accept a private settlement instead. You should not give in, but follow the rules and report the accident.
What You Need to Know About Recovering Damages from an Out-of-State Driver
As we already stated, it is a little more complicated to file a claim after being hit by an out-of-state driver. This is why you need to contact an experienced Union City car accident lawyer as soon as possible after your accident.
Here are some aspects you need to know about the process of recovering economic and non-economic damages from an out-of-state driver.
1. Time Is Not on Your Side
The process of filing a claim and negotiating with an out-of-state insurance company takes even longer than settling a claim with a Georgia insurer. Yet, the applicable statute of limitation is the one set in the Official Code of Georgia 9-3-33 – 2 years after the date of the accident.
This is not a long period of time. A Union City car accident lawyer knows from experience, many car accident victims suffer severe injuries, such as:
Back and spine injuries
Head and neck injuries
Traumatic brain damage
Internal organ damage.
These injuries require specialized treatments over several months. Afterward, the injured person needs to undergo extensive physical therapy to reach the point of maximum medical improvement.
A lawyer will have to wait until this moment to make a correct and complete evaluation of your economic damages. Thus, as you can see, the window of opportunity to take legal action is rather short.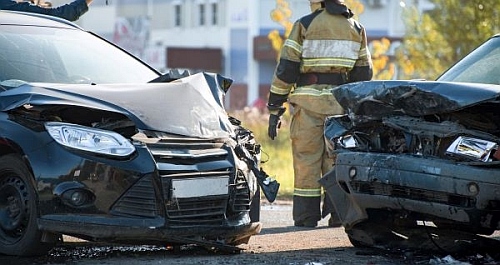 2. Georgia Insurance Requirements Are Applicable
In some cases, you may be hit by an out-of-state driver from a state that has higher minimum insurance requirements than Georgia. This may give you the hope that you stand to collect more money than from a resident driver.
In reality, as your Union City car accident lawyer will explain to you, the applicable insurance limits are those in force in the state where the accident happened. Thus, the amount of money you stand to collect is based on the minimum insurance requirements in Georgia:
$25,000 for bodily injury per person
$50,000 for bodily injury per accident
$25,000 for property damage.
3. Implications of Getting Hit by a Driver From a No-Fault State
When it comes to personal injury law, US states use one of these two principles:
At-fault: the party more at fault is liable to pay for the other party's damages
No fault: each party recovers damages from their own insurer, irrespective of the proportion of fault.
Georgia is an at-fault state and applies a modified comparative fault principle to personal injury cases, including car accidents. Thus, if you were hit by an out-of-state driver on the territory of our state, then Georgia principles are applicable.
It does not matter if the other driver lives in a no-fault state. Their insurer will have to pay damages according to Georgia rules.
What to Do After Being Hit by an Out-of-State Driver
A Union City car accident lawyer knows that every insurance claim is complex. Dealing with an insurer from another state makes things even more difficult. Your lawyer must follow a specific procedure and submit all the required documents.
Also, you will be facing the same issues as in the case of dealing with a Georgia insurer: the adjuster will try to reduce the value of your claim or even find reasons to deny it. Moreover, bad faith insurers exist all over the US – every company puts its profits above the duty to do what is right.
For this reason, you must make sure that you follow the best practices after any car accident.
Remain at the accident scene and exchange contact and insurance information with the out-of-state driver
Report the accident to the police and wait until the law enforcement officers investigate the crash scene
Seek medical care as soon as possible after the accident
Schedule a free case review with a Union City car accident lawyer.
An Experienced Union City Car Accident Lawyer Can Handle Your Case!
Gilbert Sperling, III, P.C. is the Union City accident lawyer you can trust with the most complex cases. Being hit by an out-of-state driver adds layers of complication to the usual challenges of winning an accident claim.
However, as long as you are less than 50% at fault for your accident, you have the legal right to obtain compensation from the at-fault driver. And Gilbert Sperling, III will fight to win the maximum amount you are eligible to collect.
Thus, do not waste any day, because time is never on your side when you have a legal claim. Get in touch with our law office and schedule a free case review. If we take your case, we will represent you on a contingency fee basis. That means you pay no fees until we win your case!